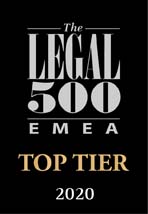 Portolano Cavallo has been recommended as a TOP-TIER FIRM in TMT for Italy, for the 11th year in a row. Ernesto Apa, Laura Liguori and Francesco Portolano are listed among the "Leading individuals" of the TMT area.
The Firm has also been recommended in the following practice areas (click to see what they say about us):
– Commercial, Corporate and M&A (Tier 5)
– Data Privacy and Data Protection (Tier 1)
– Dispute resolution (Tier 4)
– Employment (Tier 5)
– EU and competition (Tier 4)
– Healthcare and Life sciences (Tier 1)
 – Intellectual property (Tier 3)
 – IP Copyright (Tier 1)
What they say about us:
Commercial, Corporate and M&A (Tier 5)
"Portolano Cavallo is particularly focused on TMT and life sciences-related deals. The firm stands out for its deployment of artificial intelligence to assist with the organisation and comparison of multi-lingual documents during cross-jurisdictional reviews. Francesco Portolano advises on M&A, private equity, venture capital, joint ventures and corporate governance; and Manuela Cavallo has a strong track record acting for US fashion industry clients. Luca Gambini heads the life sciences department."
Testimonials
'The team is business and deal oriented. It is always pro-active and on top of matters, and gives smart advice. The practice has a unique focus on TMT in the Italian market.'
'Francesco Portolano is brilliant and very business minded. He has a great understanding of the dynamics of any transaction and is a truly trusted adviser.'
'Luca Gambini is very smart and personable. He has great depth of technical knowledge combined with a practical approach.'
Data Privacy and Data Protection (Tier 1)
"Portolano Cavallo has longstanding data privacy and data protection expertise. Laura Liguori's privacy expertise includes user-generated content, data scraping, social networks, cybersecurity, protection of databases, data mining, big data and predictive analysis of data. In relation to data protection, she advises on profiling, cookies, employee monitoring, whistleblowing hotlines, location-based services, and cross-border data transfers. Privacy and data protection specialist Giulio Novellini was promoted to counsel."
Testimonials
'This practice, which offers speedy solutions, has young partners who have a smart and collaborative approach. Project teams are built with the right mix of proficiency, communication skills and customer care.'
'Laura Liguori and counsel Giulio Novellini are available, responsive, efficient and committed.'
Dispute resolution (Tier 4)
"With a strong background in IT, IP,  media and data protection disputes, Portolano Cavallo has in recent years added capability in other sectors such as corporate, insolvency and life sciences. In this regard, Enzo Marasà handles civil, commercial and antitrust litigation, while Maria Vittoria La Rosa, who arrived in 2018 from Allen & Overy – Studio Legale Associato as of counsel, is a regulatory expert. Rome-based Micael Montinari heads the practice together with Milan counterpart Martina Lucenti, who made partner in 2018."
Employment (Tier 5)
"At Portolano Cavallo, Andrea Gangemi leads the employment practice. He advises on the employment aspects of major transactions, compensation for damages, termination of employees and managers as well as compliance (very often IT compliance, in collaboration with the privacy department) and investigations."
Testimonials
'Very responsive and practical advisers even when they are communicating in a non-native language and explaining Italian employment law matters.'
EU and Competition Law (Tier 4)
"The EU law and competition department at Portolano Cavallo was established by Enzo Marasà, who joined the firm in late 2017. Since then, the team has built up a strong record of work on antitrust matters relating to the competitive and ever-evolving media industry. Activity in this space has been boosted by a tight collaboration with the wider firm's TMT department; the team works with both Italian and US-based companies on regulatory issues, joint ventures and mergers."
Testimonials
'They quickly understand the business, find out practicable solutions, balancing legal risks and business needs. They use a non-legal language, which is really appreciated because it makes the conversation easier and more comfortable.'
'Straight to the point.'
Healthcare and Life sciences (Tier 1)
"Portolano Cavallo provides full-service assistance to high-profile clients from the life sciences industry, dealing with all transactional, contractual, contentious and regulatory aspects relating to the pharmaceutical, medical devices and healthcare sectors. Luca Gambini, who is an M&A specialist, heads the life sciences practice group. Marco Blei and Elisa Stefanini are noted for their 'precise legal analysis and hands-on recommendations'. Giulio Novellini, who was promoted to counsel in January 2019, acts in cutting-edge cases for multinational manufacturers of medical devices and pharmacy automation platforms. The team also has considerable experience in multijurisdictional litigation and regulatory cases."
Testimonials
'Portolano Cavallo is highly competent in intellectual property law.'
'Very capable and with a very good knowledge of the regulatory questions.'
'High-level professional assistance and technical expertise in life sciences.'
Intellectual property (Tier 3) and IP Copyright (Tier 1)
"Portolano Cavallo offers a wide range of IP services, with the main areas of focus for the practice including trademarks, patents, design and copyright. The team takes up intellectual and industrial property cases too, both from an IP and IT perspective. The practice is led by Lydia Mendola; Micael Montinari handles commercial, business and intellectual property disputes, while Giulio Novellini, who has an interest in privacy and data protection matters, was promoted to counsel in January 2019."
TMT (Tier 1)
"Ernesto Apa (head of media and telecoms), Laura Liguori (head of technology) and Francesco Portolano (head of TMT transactions) jointly head the 'very dynamic' digital, media and technology team at Portolano Cavallo. The department is distinguished by its strong link with the US via its New York office, and its innovative approach to technology. High-profile clients include streaming platforms, TV channels, internet and film production companies, as well as non-TMT sector clients, for which the firm provides assistance with data protection, privacy and regulatory matters."
'The Portolano Cavallo team has specific competence in the TMT sector, which I consider unique among the law firms. In addition, its assistance is a model of absolute excellence, thanks to its responsiveness, speed and punctuality and, above all, its ability to respond to questions and problems of a legal nature according to the customer's business wishes.'
'A very dynamic and strong boutique, and a leader in the media industry with a particular focus on innovation. Francesco Portolano combines broad legal experience with a unique commercial acumen. Ernesto Apa is a guru in the media sector.'
'A fantastic, clear, responsive team, providing pragmatic advice within demanding time frames. Ernesto Apa always gives top-quality advice.'
'They have an in-depth knowledge of each and every aspect of the media industry and are able to quickly understand the specific needs of the client, focus on them and tailor the service case by case. As a result, their assistance is time saving and cost-efficient. Ernesto Apa is very well known in the industry both for his professional and personal skills. He has an amazing capacity to understand his clients' needs, and also suggest and support when assessing the impact on business of any new law or decision.'
'One of the few full-service media/entertainment firms on the market. Ernesto Apa has a truly unique combination of skills and assets: extensive academic knowledge, a practical business-oriented mindset. He always delivers and goes beyond.'
***
Read more about our Awards and Recognitions.
Back