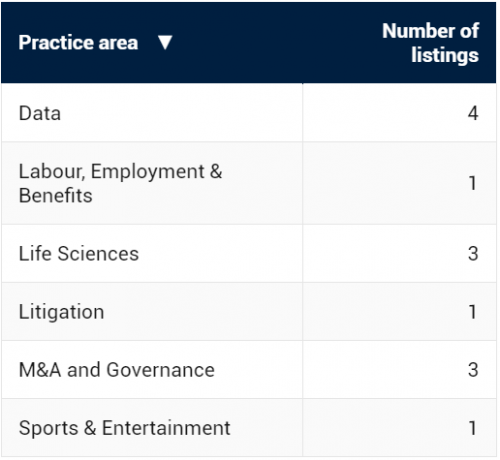 Dicono di noi:
"The highly distinguished Portolano Cavallo Studio Legale achieves a notable 13 listings across six practice areas in this year's research. The firm's performance highlights its position as a leader in the Italian market.
Data law is an area in which the firm particularly excels with four lawyers recognised in our corresponding chapter. The team is well versed in handling a wide array of related matters including data protection, privacy and cybersecurity.
The firm also performs well in the life sciences sector, with three individuals listed this year. Its impressive practice comprises expertise in medical devices, healthcare services and pharmaceuticals, as well as technological developments occurring in the field.
Corporate finance is another strength, with three practitioners listed for their leading work on private and public M&A and other complex cross-border transactions.
The firm is home to brilliant lawyers including Laura Liguori, who stands out for her top-tier data practice. Elisa Stefanini is a go-to name for life sciences matters, while Luca Gambini is commended for his impressive work advising on corporate and life sciences-related mandates."
Di seguito la lista dei riconoscimenti ottenuti dai nostri professionisti all'interno delle guide 2019 di Who's Who Legal:
Thought Leader
Data 2019 – WWL Ranking: Thought Leader
Global Leader
Data – Data Privacy & Protection 2019 – WWL Ranking: Global Elite Thought Leader
Data – Information Technology 2019
Data – Telecoms & Media 2019 – WWL Ranking: Global Elite Thought Leader
National Leader
Italy – Data
Italy – Sports & Entertainment
National Leader
Thought Leader
Global Leader
Corporate Governance – 2019
M&A 2019
National Leader
Italy – M&A and Governance
Global Leader
National Leader
Italy – Life Sciences
Italy – M&A and Governance
Thought Leader
Global Leader
Labour & Employment 2019
Pensions & Benefits 2019
National Leader
Italy – Labour, Employment & Benefits
Thought Leader
Global Leader
Data – Data Privacy & Protection 2019 – Global Elite Thought Leader
Data – Data Security 2019
Data – Information Technology 2019 – Global Elite Thought Leader
National Leader
Future Leaders
National Leader
Future Leaders
Thought Leader
Data 2019
M&A and Governance 2019
Global Leader
Corporate Governance – 2019
Data – Information Technology 2019
Data – Telecoms & Media 2019
M&A 2019
National Leader
Italy – Data
Italy – M&A and Governance
Global Leader
Life Sciences 2019
Regulatory 2019
National Leader
Indietro