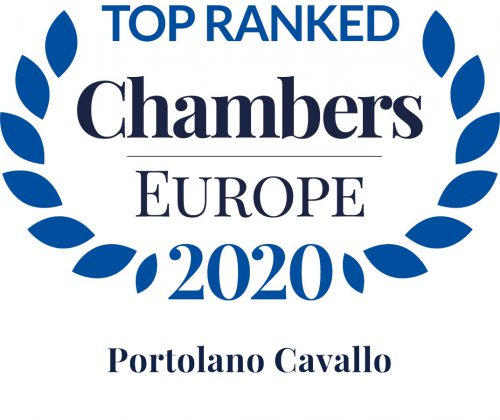 Also for 2020 Portolano Cavallo has been ranked by Chambers Europe in the following practice areas:
– Corporate/M&A (Band 6)
"Adept at handling acquisitions, capital increases and divestments, particularly in the TMT and fin tech fields. Client roster features a variety of corporates, including start-ups. Frequently handles the Italian aspects of multi-jurisdictional matters.
Interviewees praise the team for being 'responsive, knowledgeable, commercial and personable.'
Sources further describe the team as flexible and able to deal with cross-border mandates."
"Francesco Portolano (Band 6) handles transactions including share deals and corporate reorganisations. He regularly assists clients in the field of media and technology."
– TMT: Information Technology (Band 2)
– TMT: Media (Band 1)
"Couples an outstanding media practice with extensive expertise in IT-related matters. The media team excels in a range of areas, including IP, regulatory, contentious and contractual issues. Additionally handles M&A transactions within the media sector. Data protection and IT contracts are covered by its IT team. Acts for a broad roster of major global media and technology companies, as well as important financial services providers.
Clients appreciate the department's understanding of the sector, highlighting its 'very strong knowledge about data privacy and cybersecurity'. Other satisfied clients enthuse: 'They are very responsive, fast and very proactive'."
Three of our professionals have also been personally ranked in this area:
"Clients are quick to point out Ernesto Apa's (Band 1 – TMT: Media) 'outstanding expertise, seriousness and independent judgement.' He is adept at handling regulatory and contractual issues as well as IP matters and litigious mandates. He also offers support in M&A deals within the sector."
"Francesco Portolano (Band 2 – TMT: Media) frequently assists media clients with IP issues, M&A deals and regulatory concerns. He is also active in litigation cases representing entertainment and film sector clients."
"Laura Liguori (Band 2 – TMT: IT) is particularly proficient on privacy and internet-related issues, with notable experience on GDPR compliance projects. Sources highlight her 'big expertise' in the sector."
In addition, also this year our partner Andrea Gangemi has been personally ranked (Band 5) for his expertise in the Employment practice area:
"Andrea Gangemi of Portolano Cavallo advises on employment contracts for senior management, as well as assisting with employment disputes and reorganisations. Clients know him to be 'very practical and commercially focused'."
Our counsel Ilaria Curti has been personally ranked ("Associate to watch") for the Compliance and White-Collar Crime practice areas:
"Rome-based Ilaria Curti of Portolano Cavallo is skilled in a range of compliance matters, notably Law 231 organisational models. 'She provides advice that is precise, error-free and very clear,' affirms a client."
"Rome-based Ilaria Curti of Portolano Cavallo supports international corporates from the automotive, life sciences and energy sectors in internal investigations, dawn raids and criminal liability cases."
Learn more about our Recognitions.
Back