Portolano Cavallo is ranked in the
Chambers Europe 2021
guide with 4 practice areas and 6 professionals.
1. Corporate/M&A: Band 6
"Adept at handling acquisitions, capital increases and divestments, particularly in the TMT and fintech fields. Client roster features a variety of corporates, including startups. Frequently handles the Italian aspects of multi-jurisdictional matters."
"Clients report that the team's advice is 'accurate and always on time,' with one stating: 'They are responsive and the communication is clear'."
"'They work in a very attentive way,' one client enthuses, adding: 'They have national and international standing and are very available'."
Francesco Portolano is also personally ranked in this area (Band 6): click here to learn more.
2. Life Sciences: Band 3
"Established firm with wide-ranging skills in the life sciences sphere encompassing patent infringement, clinical trials and distribution agreements. Offers further advice on regulatory and compliance issues as well as data protection and IP law. Assists a range of clients in the medial device and pharmaceutical industries."
"One client says: 'The lawyers at Portolano Cavallo always work diligently and deliver on time'."
"Another interviewee praises the firm's 'deep knowledge of different judicial systems'."
"Luca Gambini and Elisa Stefanini are key contacts at the practice."
3. TMT: Information Technology: Band 2
4. TMT: Media: Band 1
"Couples an outstanding media practice with extensive expertise in IT-related matters. The media team excels in a range of areas, including IP, regulatory, contentious and contractual issues. Additionally handles M&A transactions within the media sector. Data protection and IT contracts are covered by its IT team. Acts for a broad roster of major global media and technology companies, as well as important financial services providers."
"Clients laud the members of the team as 'precise, on time, available,' as well as 'transparent and able to clarify any matters'."
"Another interviewee describes the team as 'skilled, accurate, fast and business-oriented,' adding: 'They know the area very well and their way of acting has allowed us to achieve a great result'."
Three of our professionals are also personally ranked in this area: click here to learn more.
Individual recognitions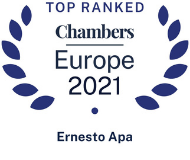 Ernesto Apa
:
Band 1
for the
TMT: Media
practice area
"Ernesto Apa is a highly active specialist in the media sector, advising on complex regulatory matters and litigation mandates before the Italian administrative courts. One client describes him as an 'expert in regulatory matters" who is "able to underline the critical aspects and overcome issues'."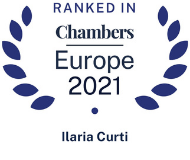 Ilaria Curti
: "
Associate to watch
" for the
Compliance
practice area and
Band 3
for the
White-Collar Crime
practice area
"Clients describe Ilaria Curti as 'highly competent and flexible.' She has expertise in a range of compliance matters, notably Law 231 organisational models."
"Ilaria Curti enteres the numerical rankings following strong client support, with one praising: 'She is very prepared and always available for any support we need. She is very practical, and this is very important from the company's point of view.' She advises clients from the media, automotive and fashion sectors on cybercrime issues, insurance fraud and bribery as well as compliance."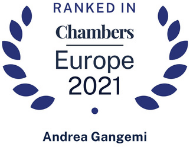 Andrea Gangemi
:
Band 5
for the
Employment
practice area
"Andrea Gangemi is experienced in handling collective dismissal procedures and employment issues related to the transfer of employees. 'He is responsive, understands what clients are looking for and is prepared to go the extra mile,' reports one happy client."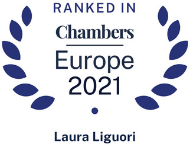 Laura Liguori
:
Band 2
for the
TMT: Information Technology
practice area
"Clients note that Laura Liguori is 'very brilliant and very focused on customer needs.' She assists local and international corporates with digitalisation issues and data protection."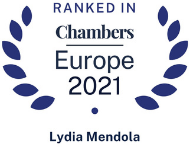 Lydia Mendola
:
Band 5
for the
Intellectual Property
practice area
"Lydia Mendola enters the rankings on the back of positive feedback from her clients, who describe her as a 'problem solver, smart and with a positive attitude.' She is experienced handling an array of copyright, trade mark and design proceedings."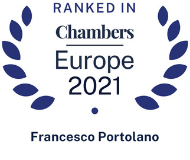 Francesco Portolano
: 
Band 6
for the
Corporate / M&A
practice area and
Band 2
for the
TMT: Media
practice area
"Francesco Portolano offers transactional advice to foreign publishing groups and Italian subsidiaries of multinational mass media companies. One client points out that Portolano is a 'tough negotiator,' and appreciates his ability to 'combine M&A skills and knowledge of the media market dynamics'."
"Francesco Portolano is known for handling M&A transactions and regulatory matters for clients from the media sector. He is additionally well versed in advertising mandates and media-related administrative disputes."
Back