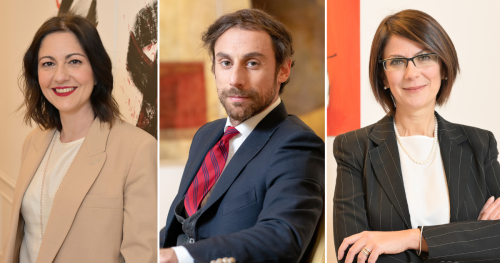 Portolano Cavallo
announces the appointment of
Ilaria Curti, Giulio Novellini, and Irene Picciano
as partners.
This raises the number of partners at Portolano Cavallo to 17, a reflection of the firm's growth as it continues to expand.
With more women partners than men (9 out of 17), the firm shows its commitment to talent as the only factor for professional growth, and that its values and policies of gender equality, and diversity in general, produce results unseen in the legal market. There is no salary gap between women and men, and all Portolano Cavallo's partners are equity partners, sharing in profits according to a pure lockstep model.
"From day one we were to build a firm where everyone, regardless of gender or any other personal feature, could grow and be succesful, putting meritocracy first, coupled with flexibility," noted Manuela Cavallo.
Portolano Cavallo is the only law firm in Italy ranked among the "Best Workplaces™" by Great Place to Work® Italia, and it has been included in that ranking for six years in a row.
***
Ilaria Curti joined the firm in 2020 to lead and develop the Investigations and White Collar Crime practice. Ilaria works on a wide variety of issues related to business criminal law and defends individuals and companies, and handles internal investigations and compliance issues. She also co-leads the Crisis Management practice. Ilaria was ranked by Chambers Europe 2022 in the areas of White Collar Crime (Band 3) and Compliance (Band 3).
Giulio Novellini, who joined the firm in 2018, focuses on high-tech projects and personal data, including investigations and litigation before the Italian Data Protection Authority, data breaches, and other aspects of cybersecurity. He also oversees the Tech Transactions practice of the firm. Giulio is ranked by The Legal500 EMEA 2022 as "Rising Star" in Data Privacy and Data Protection area and is "Recommended" by Who's Who Legal in the guides Data 2022 ("Data Privacy & Protection") and Italy 2022 (Data).
Irene Picciano leads the Compliance practice which she helped develop since she joined the firm in 2019. With more than two decades of experience, she has strengthened and showcased the EU and Competition Law practice which she oversees together with counsel Enzo Marasà. Irene also heads the Automotive & Mobility team formed to match the industry's demand for assistance on issues of digitization and technological development. Irene is ranked by The Legal 500 EMEA 2022 as "Rising Star" in the EU and Competition Law area. She is Non-Governmental Advisor to the European Commission's Directorate-General for Competition within the International Competition Network.
Back