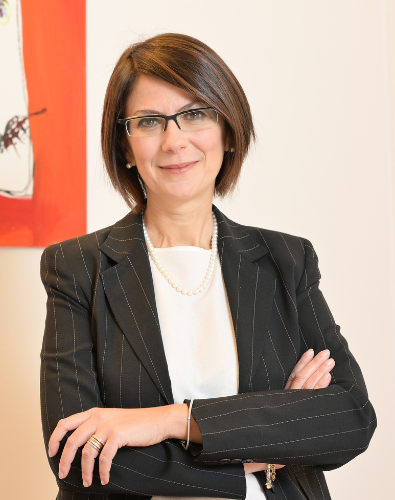 Practice area contact for:
Industry contact for:
Irene Picciano is an exceptionally gifted lawyer, with top-notch skills and experience in the fields of competition law and regulation. She's an excellent communicator too."
Irene joined Portolano Cavallo in 2019, mainly responsible for
competition and EU law
as well as product, trade and corporate
compliance
matters. In 2022 she became a partner in the firm.
In the area of competition and European law in general, Irene has accrued around twenty-five years of experience assisting multinational companies active in many industry sectors in negotiation and self-assessment of horizontal and vertical agreements under the relevant EU Block Exemption Regulations, including distribution and agency agreements, procurement and long-term supply, production and specialisation agreements, licensing agreements, joint ventures, etc.
She also deals with merger and acquisition assessments and notifications, assistance with internal audits and investigations (including "dawn-raids"), compliance programs, proceedings before national and EU authorities and courts in cartel and abuse of dominance cases, unfair commercial practices cases, follow on and stand alone actions. She has overseen numerous proceedings for preliminary rulings before the Court of Justice of the European Union on the subject of fundamental freedoms under the EU Treaty and worked on state aid complaints and structural fund issues.
She is ranked by The Legal 500 EMEA 2023 as a "Leading Individual" in the EU and Competition Law area.
Irene has also accrued extensive experience on specific aspects of compliance, not only on antitrust matters and on issues involving the Organizational Model under Legislative Decree No. 231/2001, but also on complex product and trade compliance issues, such as the release for free circulation and related customs aspects, marketing authorizations, export control, dual use, antidumping procedures, labelling, EC marking and related policies.
She has gained experience in many industries, particularly in the fashion/luxury, life sciences, automotive, food & beverage, consumer goods, telecom and digital markets industries.
Irene graduated in law from the Università degli Studi di Salerno in 1994, and was subsequently awarded a Master's Degree specializing in European Union Law, Economics and Policies from the Fondazione Collegio Europeo di Parma. Prior to joining Portolano Cavallo, she was a partner at De Berti Jacchia from 2005 and co-headed its Brussels office, where she was located from 1999 to 2001.
She has authored more than 150 legal and academic publications in EU and competition law (published, amongst others, in "Rivista di diritto comunitario e degli scambi internazionali", "Giustizia Civile", "Le Società" e "I Contratti" IPSOA, Manuale di diritto Antitrust,  Giuffrè Francis Lefebvre), and is Non-Governmental Advisor (NGA) to the EU Commission's Directorate-General for Competition within the International Competition Network (ICN). She speaks regularly at seminars, conferences and specialist undergraduate and post-graduate university courses on the areas of her expertise.
Irene is a member of the Union des Avocats Européennes, the European Law Institute and the Italian Antitrust Association in Brussels and is also co-head of the Corporate Compliance Group within ASLA (Italian Association of Associated Law Firms).
Irene has been a Supreme Court attorney since 2012.
Foreign languages: English, French
She is registered with the Milan Bar Association, registration number 2006001152.
Irene Picciano's broad experience and deep expertise in EU and competition law are widely appreciated. She is an excellent professional."
Irene Picciano is among the most brilliant professionals around for competition and EU law that I have had the opportunity to cooperate with – she manages to combine extreme technical expertise with in-depth knowledge of the dynamics of the markets concerned. She is strategically minded and always available."
Back