The COVID-19 outbreak has already affected VC transactions all over the world, and it will continue to do so during the coming months. From our experience, deals started before the pandemic have been closed even during the Italian lockdown without any substantial impact (e.g., the startup evaluation and the relevant invested amounts have not decreased, MAC clauses have not been exercised, and so on). However, we expect that the VC market will undergo substantial changes in the upcoming months. While the global and country-specific economic slowdown, which in the worst-case scenario could result in a recession, will lead to a reduction in the number of investments, less liquidity, and a more prudent and pragmatic approach on the part of investors, at the same time interesting opportunities may arise in sectors directly related to the fight against COVID-19 (medical devices and biotechnology) or those that will shape the post–COVID-19 world (digital health, home-based working, online education, digital entertainment, and so on).
Below is an analysis of how COVID-19 has affected the international market and what we can expect in the future.
1. International market: Where we stand
According to the Pitchbook report "First Installment of Series" issued in March 2020, China (as we would expect, since COVID-19 hit there first) is the country most affected by COVID-19: VC deals dramatically decreased, while Europe was hit less hard by the pandemic than other parts of the world. In the short period from November/December 2019 to January/February 2020, venture investing fell off a cliff in China. Just since the beginning of the year, Chinese venture investing has dropped more than 50% relative to the rest of the world. If other parts of the world experience declines of similar magnitude, $28 billion in startup investments will go missing this year alone. According to Dealroom, since the end of January tech and internet companies in Europe have lost almost €400 billion in total.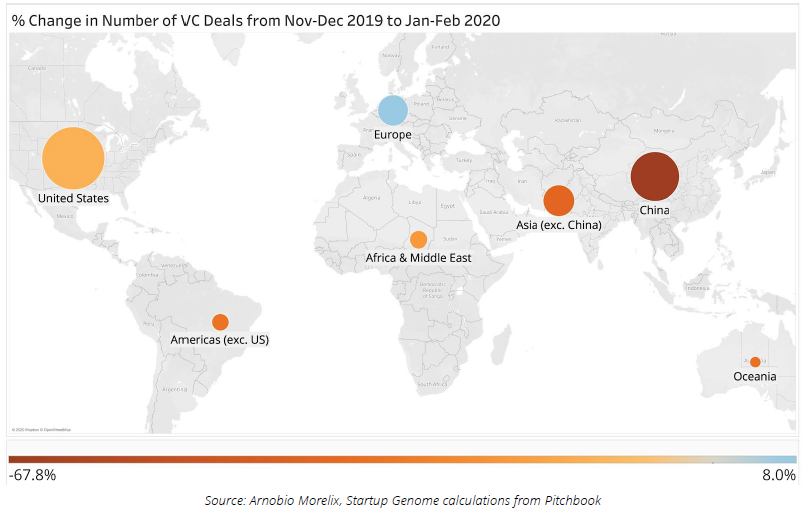 It is difficult to predict how such numbers will evolve, but we are confident that startups and VC will work together to deal with this emergency and continue to join forces to promote investments and support new and existing projects.
2. Focus: Life sciences and health care, opportunities in the era of pandemic
According to Pitchbook's "European Venture Report Q1 2020," during the first quarter of 2020 startups operating in the life sciences and healthcare sectors attracted EUR1.7 billion from investors, confirming a positive trend and the initial expectation that VC investments in such sectors may slow to a lesser extent than those in other sectors due to the impact of COVID-19. However, life sciences and healthcare sectors will, like all sectors, be affected by any economic downturn that develops, and in the upcoming months it may be hard to keep up the same pace achieved in the first quarter and hit 2019 figures (indeed, 2019 was a record year for VC investment in life sciences and healthcare startups, with 886 deals for a total deal value of EUR7.2 billion).
Besides those general considerations, investors are rethinking their investment strategies and they are looking to shift their focus to opportunities that may arise from the pandemic. It is generally agreed that startups operating in the field of drug discovery and medical devices used to diagnose, prevent, and treat COVID-19 (such as vaccines and antivirals, as well as diagnostic tests, ventilators, and personal protective equipment, including surgical masks, face shields, and gloves) are more attractive to investors.
Moreover, due to the lockdown but also to the long-term effect of social distancing measures, future rounds may be focused on digital services, including telemedicine, logistics, e-commerce (to the extent allowed under applicable law), and, in general, anything related to digital health (e.g., IoTs, cloud technology, and digital devices supporting remote patient support programs, remote clinical trials; artificial intelligence systems supporting diagnostics; and so on). Hopefully, life sciences startups will play an important role in building resilience in the near future.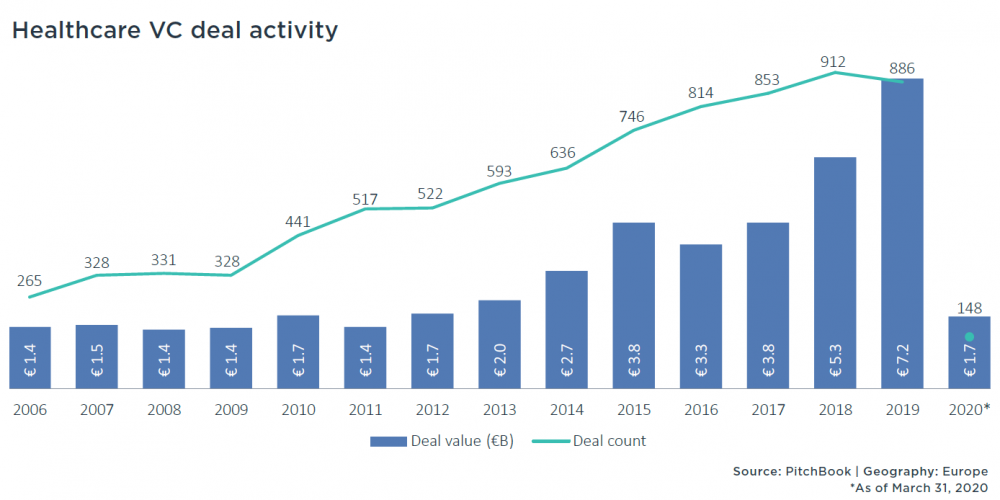 What about Italy? In 2019, Italy recorded 25 investment deals amounting to EUR152 million. From a worldwide perspective, startups based in Italy received 5% of European investments and 1% of global investments, and 84% of these transactions involved high-tech biotech startups.[1]
In Q1 2020 the following startups received new investments: Immagina Biotechnology (high-quality solutions to assess translational control of gene expression and translatome-associated biomarkers), Genespire (transformative gene therapies for patients affected by genetic diseases), Epsilen Bio (transformative therapy known as Epigenetic Silencing to treat human diseases), and PinCell (innovative first-in-class treatments for rare skin diseases). All are biotechnology companies: this shows that biotechnology can make a crucial contribution during this harsh time.
The COVID-19 pandemic also generated a number of funding mechanisms, primarily linked to the extraordinary opening of international tenders and calls for projects. There was a real call to arms for enterprises and research institutions active in the development of ultra-rapid diagnostics, antiviral therapies, and other molecular therapies. Based on the current scenario, private resources allocated to global health can be expected to increase the financing of startups with significant innovations.
3. Startups vs VC: What to expect
We expect startups to:
1. remove unnecessary costs in future plans of action and carefully consider long-term investments;
2. review their business models and consider pivoting in order to be more attractive to investors and/or remain afloat in light of the emergency situation and its repercussions;
3. renegotiate contractual relationships in place with third parties to deal with their financial needs;
4. accept investor-friendly term sheets; we also expect founders to accept liquidation preference requests and investment by installments (rather than having the whole amount paid at closing);
5. focus on strategic sectors in a COVID-19 and post–COVID-19 world (biotech, medical devices, digital health, artificial intelligence, gaming, remote work, home education, delivery services, cybersecurity).
We expect VC to:
1. focus on their portfolio companies on several levels, including (i) by providing cash injections and, more generally, by supporting companies' cash flow; (ii) by increasing the information flow between the VC and management and/or by stepping in with management more decisively to help founders manage the crisis; etc.;
2. reconsider their investment priorities and criteria;
3. prioritize follow-on rounds and late-stage investment, at least in the coming months;
4. slow their investment timing, because VC will be more cautious and due diligence processes might take longer and require in-depth analysis aimed at evaluating how targets can cope with the pandemic and its long-term effects;
5. intensify collaboration with other investors and favor co-investments;
6. consider convertible loans to postpone evaluation of startups to a later time;
7. pay particular attention to the inclusion and format of liquidation preference, exit, and anti-dilution (e.g., full ratchet) provisions to protect themselves from future down-rounds;
8. have more control over management; this will allow investors to share their knowledge and past experience to help founders manage the crisis;
9. delay their exits in order to reduce the risks arising from a more volatile economy.
The risk is that startups may be devalued and, as a consequence, VC will have more favorable deals than previously.
However, lots of good companies do emerge out of recessions. More than 50 tech unicorns were founded during the 2007–09 period.
We strongly encourage VC to follow their investment programs by supporting startups in reviewing their businesses so they can find new solutions to this emergency and not interrupt their growth. Promising startups will also continue to do so after the crisis with the help of their investors (new and old), not only in terms of funds invested, but also in terms of knowledge and experience from previous investments. Sharing is more important than ever. The interruption, suspension, or postponement of investments could lead to a second crisis for startups, and measures adopted by the government may not be enough.
Moreover, COVID-19 could present an opportunity for VC investors and big corporations to support talented people who have concrete ideas to help our community deal with the emergency, overcome the economic crisis, and continue to innovate to the benefit of the global community. This is the time for action: Let's dismiss any fear.
[1] ENEA – Servizio Industria e Associazioni Imprenditoriali – Centro Studi Assobiotec, May 2020.
Back