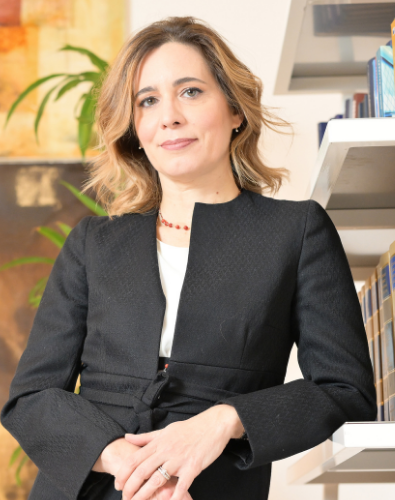 Maria joined Portolano Cavallo in 2022 as of counsel.
She focuses on patents, in particular in the Life Sciences sector, where she assists pharmaceutical and biotechnology companies.
Maria has more than 20 years' experience in dispute resolution both in Italy and in complex transnational cases in various sectors, including the chemical-pharmaceutical and biotechnology fields, as well as telecommunications, design, fashion, and luxury goods.
She has successfully worked on numerous cases before the Court of Justice of the European Union, as well as administrative procedures before the European Union Intellectual Property Office (EUIPO), the European Patent Office (EPO), and the Italian Patent and Trademark Office (UIBM).
Maria assists clients also in transactional matters such as licensing, technology and knowhow transfers, privative transfers, distribution, coexistence, confidentiality, and protection of trade secrets.
Maria's experiences include trademarks, design, industrial secrets, unfair competition, and copyright.
Maria graduated from the Università Cattolica del Sacro Cuore of Milan in 2000. At the same time, she also earned a master's degree in intellectual property from the Intellectual Property Center – IPC, Verona (course currently offered by PoliMi Politecnico di Milano). She earned an advanced university degree in European patent disputes at the CEIPI (Centre d'Etudes Internationales de la Propriété Intellectuelle), University of Strasbourg, France.
She is a member of the European Patent Litigation Association (EPLIT) and of the Chiefs in Intellectual Property (ChIPs) network.
She has co-authored numerous publications, including the chapters "Examination of Claims, Revocation, Adjustments, Supplements, and Remarks," "Execution, Transcription, Expropriation, and Military Classification," "Advertising," and "Compulsory and Voluntary Licenses" in the volume "Italian Industrial Law" (Scuffi-Franzosi, Cedam, 2014).
Before joining Portolano Cavallo, Maria worked for a leading industrial property consulting firm.
Languages: English, French
Maria is a member of the Milan Bar Association (18729) and is admitted to represent clients before the Supreme Court of Cassation.
Back