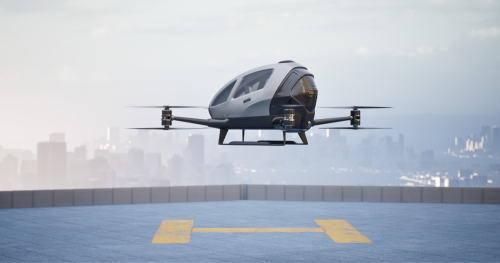 Thank to Francesca Bourrat for collaborating on this article
Step by step, the dream of using aircraft to rise above urban areas and avoid traffic is becoming a reality. However, the development of infrastructure for urban air mobility ("UAM") will be crucial to industry growth.
Thanks to the increasing number of companies starting to operate in this segment, the development of vertiports has gained significant momentum—attracting both private and public investments. At the same time, the European Union ("EU") is preparing for this challenge and has already started regulating this sector before it gets out of hand.[1]
What exactly are Vertiports?
According to the European Union Aviation Safety Agency ("EASA"), the basic definition of a vertiport is "an area of land, water, or structure used or intended to be used for the landing and take-off of Vertical Take-Off and Landing aircraft."
In other words, vertiports are areas dedicated to groups of electric aircraft that allow advanced services to support urban air mobility of both passengers and goods. Thus, vertiports also include all the tools that enable the implementation of such purposes, such as ticketing systems, secure boarding procedures, and charging facilities.
Vertiports come in three varieties: Vertihub, Vertibase, or Vertipad.[2]
The most important and most complex variant is the Vertihub. A Vertihub is a self-contained structure with several take-off, landing, and parking areas, and maintenance facilities with the possibility of retail sales. The second form of vertiport is a Vertibase. Unlike Vertihubs, Vertibases can be installed on existing roofs, making their construction costs far lower. Finally, the third variant, with the lowest production and maintenance costs, is the Vertipad. Vertipads are also the smallest and have limited function: a Vertipad offers a single take-off and landing area and limited parking or maintenance space.
Private and public investments
The ecosystem supporting aircraft  is now particularly attractive to private and public investors due to several features: energy efficiency, low noise pollution, environmental friendliness, and the eventual possibility of unmanned flight. Indeed, at the moment urban air mobility seems to be the most promising solution to urban traffic problems and to meeting the objective of carbon reduction by 2030.
As a result, more than 200 companies are currently working on Vertiport projects. Industry actors are innovating to ensure that these technologies will be available in cities, thanks to vertical take-off and landing systems ("VTOL"), electric propulsion, and advanced flight control capability.
In Europe, the Aeroporto di Roma (FCO), Aeroporto di Venezia (VCE), Aeroports de la Cote d'Azur (NCE), and Aeroporto Guglielmo Marconi di Bologna (BLQ) launched Urban Blue: a new joint company for the development of urban air mobility infrastructure at the international level. The company will rely on an existing partnership with Volocopter, but will also be supported by major investors, such as EDF, Invest, and the shareholder of Aeroports de la Cote d'Azur. Urban Blue aims to build a vertiport in Venice by 2024 and then connect other French and Italian airports via UAM.
The UK government-backed company Urban-Air Port has already opened the UK's first vertiport for drones and eVTOL aircraft in the city of Coventry and plans to develop 200 vertiports all around the world. The company is supported by Supernal, and its order book for additional sites is growing. Some vertiports are already planned "in the UK in the West Midlands and London, and internationally in the United States (Los Angeles), Australia, South Korea, France, Germany, Scandinavia and South-East Asia."[3]
In South Korea, flying taxis and urban air mobility vehicles will be accessed at gas stations located close to major cities by 2025. Oil refiner GS Caltex and five leading companies in the telecom, mobility, and airline businesses have formed a consortium to jump into the mobility future and take part in the Transport Ministry-led K-UAM Grand Challenge program to develop and operate air vehicles and airspace management services in the UAM ecosystem.
This sector's potential is continuously growing; its market value is estimated to hit more than 4 billion euros by 2030 in the European Union alone.[4] Investments in the sector will continue to grow, driven by investment funds such as Black Rock that wish to invest in this ecological transition. Accordingly, the global UAM market is expected to grow from $2.6 billion in 2020 to $9.1 billion by 2030.[5]
The European regulatory landscape
To support and foster innovation in this promising sector, the EASA—and more specifically, its Vertiport Task Force ("VPTTF")—published new guidelines for future vertiport innovations that also will allow drones and electric vehicles to take off vertically.
On March 24, 2022, the EASA developed a Protocol Technical Specification ("PTS") by working closely with experts from member states and the main vertiport and VTOL manufacturers around the world. Under the auspices of a rulemaking task (RMT.230), the agency will now develop a comprehensive regulatory framework for the design and certification of vertiports.[6]
The final goal for the EU is to build through EASA—which already sets safety standards and develops regulatory frameworks in the aviation sector—a foundation and legal basis in the global vertiport market to support stakeholders involved in development of urban air mobility.
However, it will be crucial in this sector to develop a consistent and innovative legislative framework able to create and support the new mobility frontier, setting aside the traditional air transport systems that all members states have relied upon for decades.
In this respect, Implementing Regulation (EU) 2019/947 on the rules and procedures for operating unmanned aircraft sets out rules for the operation of drones (meaning an unmanned aircraft system, "UAS") and personnel, including remote pilots and organizations involved in such operations, and the complementary Italian UAS ENAC regulation was released in January 2021. Yet there is still a lot of work ongoing relating to the next step in unmanned aviation in the EU. "U-space" airspace and services will be governed by a set of agreements, protocols, means of communication, and standards that together must regulate increased unmanned air traffic management ("UTM"). The U-space regulatory framework was adopted in April 2021 and will take effect in early 2023, so the time has come to focus on implementation steps that service providers, infrastructure operators, and member states can take to work on putting the building blocks of U-space (i.e., network identification, geo-awareness, air traffic information, and flight authorization for drones) into practice. We will see whether the EU and member states meet this challenge.
[1] Commission Regulation (EU) 2020/1058, https://eur-lex.europa.eu/legal-content/EN/TXT/PDF/?uri=CELEX:32020R1058&from=EN.
[2] McKinsey, "To take off, flying vehicles first need places to land," August 31, 2022, https://www.mckinsey.com/industries/automotive-and-assembly/our-insights/to-take-off-flying-vehicles-first-need-places-to-land.
[3]Urban Air Port ltd, "World-first hub for flying taxis, Air-One, opens in Coventry, UK, heralding a new age of zero-emission transport," April 25, 2022, https://www.urbanairport.com/uap-blog/world-first-hub-for-flying-taxis-air-one-opens-in-coventry-uk.
[4] Urban Air Mobility News, "Urban Blue to develop 'UAM vertiports across Europe,'" November 2, 2021, https://www.urbanairmobilitynews.com/vertiports/urban-blue-to-develop-uam-vertiports-around-europe/.
[5] Globe Newswire, "Report linker," March 1, 2021, https://www.globenewswire.com/news-release/2021/03/01/2183953/0/en/The-urban-air-mobility-market-is-projected-to-grow-from-USD-2-6-billion-in-2020-to-USD-9-1-billion-by-2030-at-a-CAGR-of-13-5-from-2020-to-2030.html.
[6] European Union Aviation Safety Agency, "Vertiports," March 2022, https://www.easa.europa.eu/downloads/136259/en.
Back