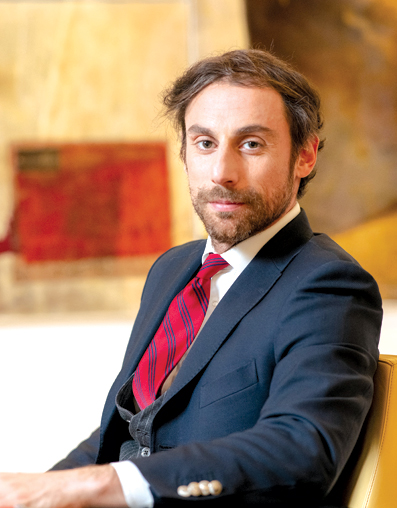 Referente area di attività:
Referente industry:
Giulio Novellini is a very precise and prepared lawyer, truly a professional who manages all the problems submitted to him in an optimal way, even in a short time."
Giulio è entrato a far parte di Portolano Cavallo nel 2018, occupandosi di
privacy, data protection
, 
Internet & e-commerce
e
nuove tecnologie
(quali
Intelligenza Artificiale
,
Blockchain
e
Smart Contracts
).
Nel corso della sua esperienza professionale, Giulio ha assistito società nazionali e multinazionali occupandosi di contenzioso e compliance in materia di Protezione dei Dati Personali.
Ha maturato un'esperienza particolare nella consulenza riguardante siti web e app, compliance online in materia di cookie, trattamento dei dati per finalità di marketing, ecommerce, trattamento transfrontaliero di dati personali e violazione dei dati personali.
Giulio supporta i clienti offrendo attività di assistenza quali pareristica legale, privacy-by-design e privacy-by-default, valutazioni di impatto privacy e audits. Si occupa altresì dell'applicazione delle nuove tecnologie in ambito life sciences, fintech e insurtech nonché le loro rispettive conseguenze sul trattamento dei dati personali.
Giulio è ranked da Legal500 EMEA 2022 come "Rising star" per l'area Data Privacy and Data Protection ed è "Recommended" da Who's Who Legal nelle guide Data 2022 ("Data Privacy & Protection") e Italy 2022 (Data). È inoltre tra i vincitori dei Client Choice International Awards 2020 per l'area Data Privacy & Protection.
Nel 2006 si è laureato in giurisprudenza presso l'Università degli Studi di Parma e nel 2010 presso la Catholic University of Ávila.
È autore e co-autore di diversi articoli e pubblicazioni, pubblicati su quotidiani nazionali e riviste giuridiche, in materia di protezione dei dati personali e utilizzo di nuove tecnologie.
Giulio è membro della International Association of Privacy Professionals (IAPP). Tramite IAPP, ha ottenuto la certificazione CIPP/E – Certified Information Privacy Professional/Europe.
Lingue parlate: Inglese, Spagnolo
È iscritto all'Ordine degli avvocati di Madrid con numero C.94014 e dal 2012 è avvocato stabilito presso l'Ordine degli avvocati di Caltanissetta con numero 1212.
Counsel Giulio Novellini acts for clients in sectors such as fashion, transportation, IT, life sciences and medical devices, and leisure and entertainment."
Giulio Novellini 'knows data issues inside and out' according to impressed peers who herald him as a 'top-level practitioner in the market'."
Indietro