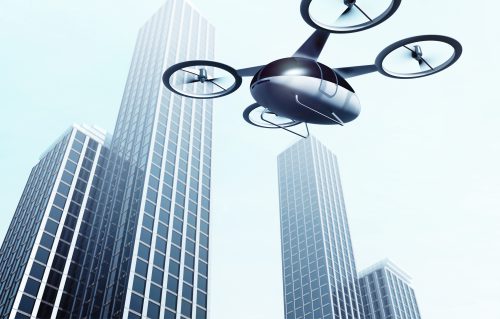 Urban Air Mobility
("
UAM
") references the expansion of urban mobility into the air using drones, human-operated and self-driving air-taxis, and other types of aircraft as a means of low-altitude air transport for short distances in urban environments.
As UAM investment, testing, and case studies grow, it is increasingly clear that the these technologies offer possibilities beyond mere transport of passengers and goods and may also provide support for emergency services, transport of blood and organs, monitoring of traffic and infrastructure, and means of public safety. Furthermore, this emerging phenomenon is occurring in both Europe and the United States, and it involves the private and public investment—as discussed below.
Private investment in the United States
As the COVID-19 pandemic has forced millions of Americans to stay home, online shopping has become more important than ever. To keep pace with this phenomenon, UAM is becoming less of an experiment and more of a reality, especially since the Federal Aviation Administration ("FAA") started issuing Part 135 certifications for commercial drone operators. These certifications were originally created for charter airlines and later adapted for drones. Recently, the FAA authorized Amazon to develop an aerial delivery program. Amazon is the third company to obtain such authorization, and it will allow Amazon to "safely and efficiently deliver packages to customers," according to the FAA. Similarly, Walmart will also begin testing drone deliveries along the Arkansas-Missouri border this summer in partnership with California-based drone provider Zipline. Another private company investing in this segment is Flytrex, a Tel Aviv-based startup operating in the United States. The startup has tested an air delivery model in North Carolina, where it delivers items from Holly Springs Town Center restaurants to a pick-up point after a five-minute flight.
Analysts value the home delivery market at $6 billion from now to 2026, and accordingly commentators suggest that the FAA should streamline the procedure to obtain certification for drone delivery operators.
Public investments in Europe
In March 2022, the European Climate, Infrastructure and Environment Executive Agency ("CINEA") published a brochure on drones and sustainable UAM. The publication presents an overview of ongoing and completed research and innovative transport projects that were selected through a competitive call for proposals under the Horizon 2020 Societal Challenge with the slogan "Smart, green and integrated transport."
The projects featured in the publication advance the state of the art in multidisciplinary areas, such as autonomous flights for transport monitoring, aerial means for search and rescue, and automated electric mobility, combining several aeronautical disciplines.
Just a few examples: 5D-Aerosafe, a project coordinated by Airbus Defence and Space in France, aims to develop five different drone services to increase airport and waterway safety and security, and Drones4safety, a Danish project, will build a drone system for ensuring safety in transport infrastructure.
The VTT Technical Research Centre of Finland is developing AiRMOUR to enable emergency and medical services via sustainable UAM. Personal air vehicles for doctors and medical supplies have been tested successfully in real-world demonstrations in Norway, Finland, and Germany.[1] Similarly, in October 2021 the delivery of medicinal drugs to isolated areas via drone was tested for the first time in Trikala (Greece).[2]
At the High Tech Campus Eindhoven—one of the consortium partners of the EU-funded FF2020—the first autonomous drone demonstration occurred in April 2022, and testing will continue through the end of September 2022. This project is designed to incorporate UAM into the geospatial data infrastructure of cities, and Milan will serve as a living lab for further testing.[3]
The European Union Aviation Safety Agency ("EASA") expects UAM to become a reality in Europe within three to five years. In view of this, in May 2021, the EASA published a comprehensive study on the societal acceptance of UAM operations across the European Union, with an eye to preparing a future regulatory framework.
The European Commission is also currently developing a "Drone Strategy 2.0" for a smart and sustainable unmanned aircraft ecosystem in Europe and has launched a related public consultation to build an efficient regulatory framework for the implementation of UAM in Italy.
UAM in Italy
The EU invested 2.6 million euros in AW-Drones, a project coordinated by the Italian company Deep Blue S.r.l. The AW-Drones project, which ended in December 2021, supported evolution of the EU regulatory process for the establishment of technical rules, standards, and procedures for civilian drones. The information produced by the project is also gathered on an online knowledge platform, the publicly available AW-Drones Open Repository.[4]
According to the CINEA report, other Italian entities are benefiting from EU funds for UAM research. These include the Centro Europeo di Formazione e Ricerca in Ingegneria Sismica (Eucentre Foundation), the Municipality of Turin, the University of Pisa, and the Institute for Sustainable Society and Innovation (ISSNOVA), as well as Italian companies such as Eurousc Italia S.r.l. and Neat S.r.l.
According to analysis of the digital innovation monitoring center of the Milan Polytechnic school of management, investments in the Italian drone sector reached 94 million euros in 2021—a 29% increase compared to 2020.[5]
[1] See https://cordis.europa.eu/article/id/435772-preparing-europe-s-cities-for-urban-air-mobility.
[2] See https://cordis.europa.eu/article/id/435209-central-greek-city-trikala-tests-drone-drug-delivery-to-remote-area.
[3] See https://cordis.europa.eu/article/id/436232-a-living-lab-for-urban-air-mobility.
[4] See https://standards.aw-drones.eu/.
[5] See https://dealflower.it/grimaldi-con-la-commissione-europea-per-la-futura-strategia-sui-droni/.
Indietro