We recently attended the country-focused seminar Healthcare: Italy on the Move 2020 during the weeklong J.P. Morgan Annual Healthcare Conference in San Francisco. The event is organized each year by the Italian trade agency and the Italian consulate of San Francisco, and it is dedicated to attracting foreign investments in the life sciences Italian industry.
The event was a terrific opportunity to turn the spotlight on a select number of very promising Italian emerging companies and, more generally, to the Italian life sciences industry, a leading country in the EU on several levels.
Indeed, as highlighted during the event, pharmaceutical companies in Italy hit a production value of €32 billion in 2018. They achieved the largest pharma export growth in Europe (up 117% from 2008 to 2018 versus a 58% increase in large EU countries on average) and have a therapeutic pipeline of more than 300 biotech projects with €1.7 billion in pharma R&D investments and €700 million invested yearly in clinical trials. Italy is the leading manufacturer of drugs in the EU, but it also has a strong medtech industry, with over 3,800 companies and some of the most prominent clusters in Europe (such as the Mirandola biomedical district)[1].
Moreover, even if foreign investors still invest little in emerging Italian companies compared to emerging companies located in other European countries, Italy is experiencing an exponential growth of the venture capital and corporate venture capital environment.
In this regard, now that 2019 is over, we can look back and provide an initial report on venture capital activity, focusing on investments in the life sciences industry.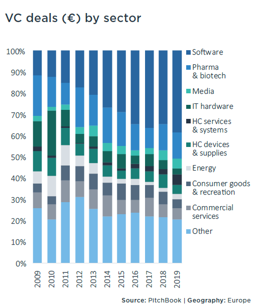 As the European Venture Report (see chart) illustrates, from an EU point of view, in 2019 the pharma and biotech industry was the sector with the second largest number of VC deals (the first was the software industry, which increased by approximately 5% over the previous year).
In comparison to the 2018 scenario, the percentage of investment in pharma and biotech has remained almost unchanged, again confirming its important role in the EU venture capital market.
Looking at the general Italian landscape, according to StartupItalia, in December 2019 investments in Italian startups and in startups with Italian founders was equal to €723 million. However, the amount invested increased inversely to the number of deals, which decreased, reflecting the European trend in this regard.
In 2019—also in line with EU trends overall—the biotech sector played a leading role. It was the sector that received the most significant investments in terms of value, even if the figures are still far from reaching the higher values recorded in other European countries, such as the UK and Germany.
One strong example is Genenta Science, a biotech startup that closed a round of €13.2 million, placing it in the top three in the overall ranking. Genenta Science's purpose is the development of a gene transfer strategy into hematopoietic cells to target specific anti-tumor proteins. This round was its third financing operation since its incorporation in 2015. With this new injection of liquidity, Genenta has achieved a total amount of €30.2 million in financing. The investment was led by the Chinese venture capital fund Qianzhan Investment Management (QZ), together with Fidim, an Italian holding company owned by the Rovati family.
The second biotech company that closed a very substantial round is Pillo Health, which aims to support the elderly and those who are not self-sufficient with a small assistant robot that reminds them to take the right medication at the right time. Pillo Health received a financing injection of around €10 million from the corporate venture capital department of Stanley Black & Decker, Samsung Ventures, and other investors (BioAdvance, Hikma Ventures Hackensack Meridien Health System's Innovation Center Fund, and Civilization Ventures).
Kither Biotech, a Turin-based biotech startup that in recent years has focused its first line of activities on the development of a small peptide for the treatment of cystic fibrosis, received €5.6 million in 2019 in a round led by Invitalia Ventures. An important role was also played by Italian Angels for Growth through its vehicle Breath 80, Ersel Group, the business angels network Club degli Investitori, ACE Venture, Claris Ventures SGR, and family offices such as Elysia Capital.
In December 2019, a total of €16 million (€14 million from RIF and €2 million from Fondazione Telethon) were invested in two new innovative startups operating in the biomedical industry: (i) Next Generation Diagnostics, whose main purpose is the development and testing of new diagnostic techniques based on genomics and new-generation DNA sequencing systems; and (ii) InnovaVector, which aims to conduct design and testing activity on new techniques of production, purification, and quality control of adeno-associated virus (AAV) vectors, with an eye to using them in gene therapy.
Moving to the medtech landscape, Newronika concluded a very interesting round (A series) in September 2019, raising €8.5 million from the French venture capital fund Omnes, Innogest, and Indaco Venture Partners SGR. The fund F3F and a family office played a key role in the transaction. Newronika operates in the life science industry and is developing a deep brain stimulation technology with great promise for people with Parkinson's disease.
There have been other significant investments in Italian life sciences startups. One of these is certainly the new round closed by Osteocom, a startup providing digital educational services for the dental industry, which closed a €2 million investment round led by the venture capital fund P101. This follows a previous investment of €550 thousand subscribed by Milano Fiduciaria.
Another important round was closed by TeiaCare, a startup working on a mechanism called Ancelia, designed for assisted living facilities. Ancelia continuously monitors patients, reducing the risks associated with being bedridden and the risk of injury and falls. The startup raised €1.1 million from the EIT investor network.
In June 2019 EpiCura, a digital clinic service that makes it easy to make appointments for medical services and be seen quickly, successfully closed its second capital increase, raising €1 million. Again, the contribution of Club degli Investitori was fundamental; other important investors included LVenture Group, Accelerators Club, and Boost Heroes. The capital increase was then completed via equity crowdfunding on the Mamacrowd platform.
These emerging Italian companies illustrate the excellence and extraordinary quality of the Italian start-up environment, a fact also confirmed by all of the life sciences startups showcased during Healthcare: Italy on the Move 2020 at the Italian consulate of San Francisco that we will introduce you in the upcoming weeks.
[1] Data provided by Farmindustria and Assobiotec/Federchimica during the Healthcare: Italy on the Move 2020
Indietro