From real-time marketing to social e-commerce: brands' strategies to increase virtual reconnection.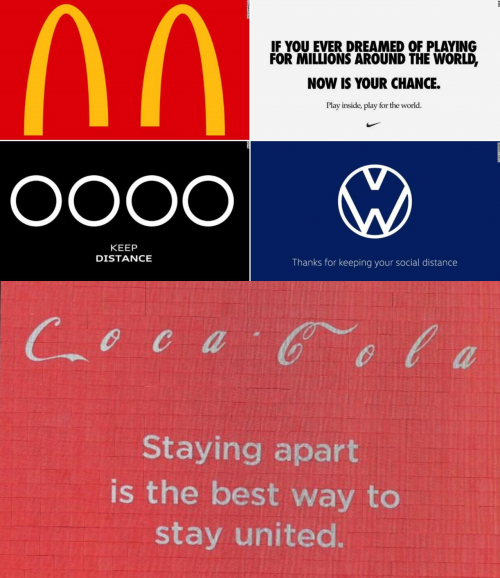 From real-time marketing to social e-commerce: brands' strategies to increase virtual reconnection.
The Italian version of this article was first published on Wired.
How to remain in touch with customers, or better, how to engage them, even during this health emergency? One of the possible answers is real-time marketing (RTM), i.e. the well-known marketing strategy based on a company's reaction to external stimuli, its prompt reaction in the interest of the public to a certain trendy topic, and the generation of the buzz that comes with that type of reaction. The ultimate goal is always the same: generating brand awareness in an effective and organic way by means of a brand's visibility and consensus.
Over the last decade, companies have been adapting to new digital channels and, with the spread of social networks, have learned to exploit dynamics that generate interaction within a community. It is obvious that social networks have become the preferred channels for RTM campaigns.
Web trend topics are the drivers and the capacity to stay in touch with the web makes the difference: good newsjacking activity to get into the conversation flow and the ability to seize the moment are key elements of this activity.
An unplanned/reactive RTM strategy works via the ability to adapt a (social) media marketing campaign to a breaking news or a particular event, aiming at the emotional involvement of the audience. This strategy can increase a company's success, in terms of brand reputation and popularity, but it also raises risks, including under a legal point of view: the necessarily tight timescale for reaction prevents the analysis of the many facets of a message and its possible effects, for example, when an explicit or implicit comparison with a competitor's brand is put into place, or when a campaign touches on a topic that impacts the sphere of ethics.
Even in a very delicate moment like the emergency we are experiencing, brands have chosen RTM to remain in touch with consumers and involve them emotionally: in other words, to get closer to consumers by, for example, talking about social distancing and sharing as much as possible the idea that we are all in the same situation and we all must work as a team and follow the rules in order get through this pandemic.
This is the message presented by, among others, McDonald's, Audi, Nike, and Volkswagen through their social distancing's logos during the last couple of months: all brands were keen on highlighting proper social behavior—the only social measure available to everyone and capable of progressively flattening the infamous curve. This is perfectly summed up by Coca-Cola, which is currently running an ad in New York's deserted Times Square that shows each letter of its logo separated with the slogan "Staying apart is the best way to stay united."
On the other hand, very little empathy—at least with one part of the country—was on display in a Visit Valsugana ad in which images of mountains, meadows, and streams were accompanied by a voiceover saying, "Keep the mini-apartment downtown, keep the traffic, keep the takeout, keep the subways, the Smart, the aperitif. Keep Fashion Week… I mean, keep it all, or keep yourself." This was a thinly veiled attempt to promote the views and the quiet life of the valley by positioning them in opposition to Milanese city life, but it was seen as an attack and sparked numerous controversies. Ultimately, the backlash caused Trentino Marketing and the Tourism Department of the Autonomous Province of Trento to dissociate themselves from the content. The Valsugana Tourist Office then removed the video from the network.
Emotional connection may also be created through the online social experiences offered by brands, keen to reach consumers during social distancing and to partially satisfy the need to socialize, at least in a virtual environment.
The virtual aperitif seems to have positioned itself as one of the main methods for fostering a sense of connection, satisfying one of the needs that Maslow's hierarchy of needs ranks as relevant in making people feel satisfied and motivated.
Social platforms saw a massive increase in access as consumers sought out new ways of meeting up with friends and family.
The importance of this moment has not gone unnoticed by brands: some have decided to participate by presenting initiatives such as exclusive concerts, livestreams with influencers, and online spaces hosted by the brands themselves. It has been pointed out that because of this unprecedented health emergency, digital marketing's compliance with rules protecting transparent advertising is more important than ever. Therefore, brands and influencers must pay the utmost attention to advertising legal compliance, remaining aware that the relevant authorities are sharply focusing their attention during this difficult time.
The last frontier of real-time consumer engagement strategies is social e-commerce.
On March 26, Louis Vuitton hosted its first livestream — which included an interview session with a celebrity guest — on the Chinese social commerce platform Xiaohongshu.
Xiaohongshu, or Little Red Book, is a digital platform where users can share lifestyles and companies can present products. But it serves a dual function, reflecting the dual nature of social media and the marketplace. Typically, users access traditional e-commerce to search for products they already have in mind. On social commerce sites like Xiaohongshu, on the other hand, they access out of curiosity as they would a classic social media platform like Instagram. A user scrolls through the pages of the platform, stops on a product's post, clicks, sees the comments, is convinced, and proceeds to purchase. It is a kind of combination of a site like Instagram and an Amazon-style marketplace.
With 200 million users, Xiaohongshu has become almost an essential stop on a Chinese consumer's journey. The posts that appear are from people the user follows or those close to the user or are shown based on the user's preferences. Since the app was born as a shopping guide for international luxury brands, the posts and comments have highly informative, and apparently less promotional, content. The point is to make sure that the product information comes from people the consumer trusts, in line with a Chinese culture that values word of mouth and social opinions when weighing purchasing decisions. That is far from being solely a Chinese prerogative in any case.
The topic of trust in the source also underlies the Instagram business model. Indeed, micro- and nano-influencers on Instagram are raising interest in brands because of their stronger connections and interactions with the end consumer.
As social media usage surges amid the lockdown, it is likely that social commerce capabilities are set to become an important piece of brands' e-commerce strategies.
Indietro