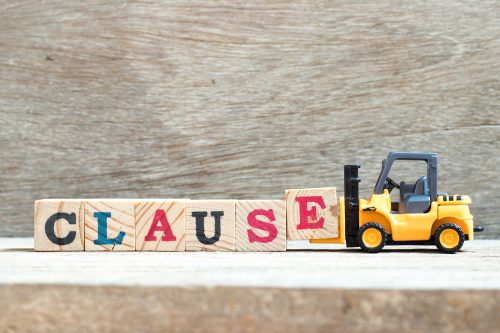 1. Sole remedy clauses: enforceable or not?
While rather common in practice, "sole remedy clauses" (or "exclusive remedy clauses") are not expressly regulated in Italian statutes, and court precedents do not provide clear guidelines either.
Nevertheless, we believe that a sole remedy clause may be validly included in an agreement, and be enforceable, provided some drafting tips are followed and certain conditions are met.
2. Purpose, structure, and content of the sole remedy clause
Sole remedy clauses are commonly included in M&A agreements. The main goal is to give certainty and predictability to the risks assumed by the parties by limiting the applicability of remedies set by laws in the event of a breach of contract.
M&A agreements usually include indemnification provisions and rules pursuant to which a party agrees to hold harmless and indemnify the other from specific claims (e.g., "losses" arising out from the breach by the seller of the representations and warranties granted to the buyer). Indemnification provisions may, and often do, apply to both seller and buyer; however, the indemnification obligations of a seller are much more relevant, in that they are intended to cover the entire apparatus of representations and warranties, which often represents the core of the agreement, and the most likely source of post-closing disputes. In most cases, these indemnification rules are qualified as "exclusive remedy", thus meaning that the indemnification rights provided for in the purchase agreement are the only post-closing relief available to either party in case of breach of contract or, most often in the case of a seller's indemnification, a misrepresentation.
Specifically, those clauses are aimed at ruling out the option of terminating the contract, thus avoiding the effect of title to the shares – in a stock transaction – returning to seller. Indeed, in the presence of an exclusive remedy clause, the only consequence arising out breach of contract or misrepresentation will be the payment of a sum of money[1] within the agreed indemnification terms. The clause is generally framed as follows:
"Their sole and exclusive remedy of either party with respect to any and all claims for any breach of any representation, warranty, covenant, agreement or obligation set forth herein or otherwise relating to this Agreement, shall be te right to indemnification set forth in this Article [__]. In furtherance of the foregoing, each party hereby waives, to the fullest extent permitted under applicable law, any and all rights, claims and causes of action for any breach of any representation, warranty, covenant, agreement or obligation set forth herein or otherwise relating to this Agreement."
3. Italian law and brief outline of U.S. landscape
The Italian Civil Code[2] dictates that parties are free to determine the content of an agreement.
Yet, this right is limited by, amongst others, the well settled principle that a party, when entering into an agreement, must perform under the standards of good faith and fair dealing. It follows that the parties always have to act loyally toward each other and that, therefore, no party shall play in mala fide by, for instance, exploiting the rights granted to the same (e.g., rights arising from, or however connected to, the sole remedy clause) for unfair purposes.
The Italian Civil Code[3] also provides that any covenant which preemptively excludes or limits a debtor's liability for willful misconduct or gross negligence is null and void. This means that a party may not rely on a sole remedy clause to intentionally fail to perform. Similarly, a sole remedy clause may not shield a party from liability arising from a "grossly negligent" behavior. As this provision of the Italian Civil Code embodies a public policy principle, the parties may not contract out of it.
The duty to perform in good faith and the willful intent/gross negligence limitation are the key limits applicable in the Italian legal system. As case law is scarce in Italy on this topic, it may be useful to look at U.S. cases, to retrieve further drafting tips.
Under U.S. market practice it is common for the parties to agree on specific limits to the effectiveness of the sole remedy clause by carving out, increasingly, fraud and intentional misrepresentation. This trend can be considered as a common ground with Italian law since "fraud" and "intentional misrepresentation" (as negotiated from time to time between the parties) may be deemed similar concepts to "willful misconduct" as described by the Italian Civil Code.
U.S. courts have already ruled on the admissibility of sole remedy clauses and provide useful drafting guidance. In general, U.S. case law particularly focuses on the precision and clarity of the language used in the contract. For example, in Silgan,[4] the court argued that the clause language was not sufficiently clear and unambiguous to create an exclusive indemnification remedy; therefore, the clause was not held to exclude other remedies. Conversely, in Sterling National Bank,[5] the Court recognized that the contract clearly stated that indemnification was the exclusive remedy for breach of contract available to the parties. Indeed, after analyzing the contract's wording, the Court found a "clear and distinct manifestation" of the parties' intent to waive every other remedy.
4. Conclusions
As it stands, sole remedy clauses should be deemed valid and enforceable under Italian law. They should be drafted with some care:
claims based on willful misconduct or gross negligence should never be excluded. Better yet, the clause should expressly state that it would not prevent such claims. This is because otherwise one could argue that the entire clause should be null and void[6];
the clause must use clear and express language to provide that the indemnification is the parties' sole and exclusive remedy for breaches covered by the clause itself.
[1] More precisely: indemnification of losses or damages, depending on the claim.
[2] Section 1322.
[3] Section 1229.
[4] Silgan White Cap Americas LLC v Alcoa Closure Systems (United States District Court, W.D. Pennsylvania).
[5] Sterling National Bank v Block (United States District Court, N.D. Illinois, Eastern Division).
[6] A well written severability clause would also play a role to preserve the clause.
Indietro